Works & Stats
$works [Series_Link]​
shows a list of links to the works in a series.
note
How many works the command displays is dependent on the length of the names of the works. A series with longer titles will show fewer works than a series with shorter titles. This is due to Discord embed limitations.
Example
$works https://archiveofourown.org/series/919710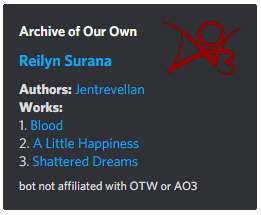 $stats [Fic_Link]​
shows the number of hits, kudos, comments and bookmarks the fic has gotten.
Example
$stats https://archiveofourown.org/works/13377537